Login
Log in if you have an account
Register
Having an account with us will allow you to check out faster in the future, store multiple addresses, view and track your orders in your account, and more.
Create an account
Young Farmers for Racial Equity
11 Nov 2020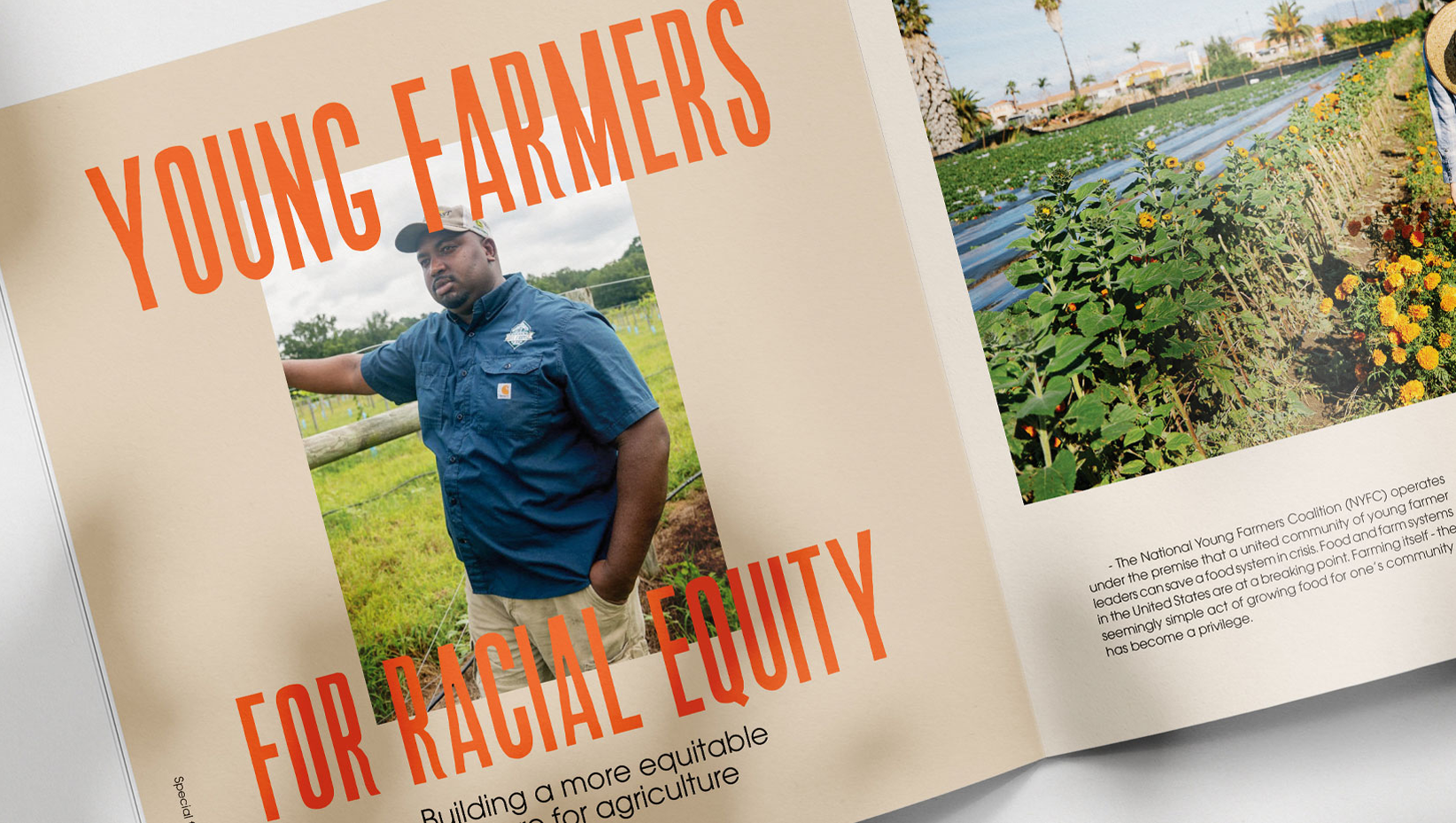 Written by Jessica R. Manly, with contributions from Martin Lemos, Sophie Ackoff, Holly Rippon-Butler, and Michelle A. T. Hughes
Photography by L.L. Gingerich, Stella Kalinina & Erin McCarley
The National Young Farmers Coalition (NYFC) operates under the premise that a united community of young farmer leaders can save a food system in crisis. Food and farm systems in the United States are at a breaking point. Farming itself - the seemingly simple act of growing food for one's community - has become a privilege.


***
How do we build a brighter, more equitable future for agriculture?
The average farmer today is nearly 60 years old in a country that has 28 million fewer farmers than it did a century ago. Farmland is developed and paved over at a rate of more than 2,000 acres per day, and the obstacles facing young people with the desire to launch careers in farming grow every year. Access to land and capital, student loan debt, affordable healthcare, skilled labor: these obstacles are even steeper for farmers of color, as systemic racism determines who is born into land and wealth. White people own 98 percent of all farmland today. On top of these already challenging circumstances, 2020 has asked more of young farmers, ranchers, and farmworkers than any other year in recent history. In addition to the emotional, physical, and economic challenges of adapting to the COVID-19 pandemic and the urgency of organizing for the protection of Black lives, recent wildfires, flooding, and other impacts of the climate crisis have caused devastating damage to farmers' homes, businesses, and communities.



"Some days, the odds seem overwhelming and we feel close to losing hope. But as farmers, we know how joyful, healing, and important working the land can be, as well as the freedom it brings. So how do we move forward in building a brighter, more equitable future for agriculture?''




We organize, we learn, we heal, we form community, and we change policy. Young farmers have always been some of the most resourceful and adaptive professionals out there. In addition to building prosperous businesses in a food system that was not designed for their success, the farmers in our network work tirelessly together to win state and federal policies that work for small, diversified farms, farm workers, and farmers of color.
A voice for young farmers
The National Young Farmers Coalition launched a decade ago, guided by a grassroots network of farmers and ranchers across the United States. The founders recognized that the challenges young farmers faced were structural, and as such, needed policy solutions. When the Coalition was launched in 2010, there was not yet a collective voice advocating for young farmers in D.C. "It's taken me until year six of farming to be able to obtain my own farm." Young Farmers Board President, Davon Goodwin, says. Goodwin is currently the owner of Off the Land (OTL) Farms in Laurinburg, North Carolina.


"One hundred years ago, more than 14% of farmers were Black. Today, they represent only 1.3% of U.S. producers.''



Our structure of country-wide, farmer-led chapters was built to be resilient in times of crisis and to give a voice to the unique challenges faced by young farmers and farmers of color in state and federal government. Through discussions with policy-makers, we have guided the creation of a federal microloan program now accessible in every county in the U.S. We've proposed changes to food safety rules through nationwide grassroots action to support diversified family farms. To preserve U.S. farmland, we proposed $60 million in cuts for the Agricultural Conservation Easement Program (ACEP). And, we made historic gains for young farmer training and outreach to farmers of color in the latest farm bill.
***
Join them! The voice of every farmer, friend, and supporter is welcome. Sign up for the Young Farmers action network [by texting FARMERS to 40649] to advocate for the next generation of farmers and ranchers, and become a member of the Coalition for $5 per month at youngfarmers.org/join.